Strong partnerships in the field of technology
In the field of speech technology, Sympalog trusts in powerful partners:
---
authensis AG

authensis delivers innovative omnichannel communication solutions round about the authensis ACHAT software suit – integrated into the existing IT and telecommunications infrastructure. The seamless embedding of the communication into business processes and IT applications brings digitalization to the point and is the basis of an outstanding customer experience.
The authensis team offer longtime experience from conception and implementation to integration and support.
Customer contact management with authensis ACHAT: comprehensive, enduring, reliable
European Media Laboratory GmbH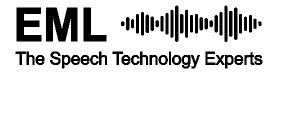 EML European Media Laboratory GmbH, based in Heidelberg, is a development and research enterprise in the field of the applied information technology, which was founded by the physicist and SAP cofounder Klaus Tschira (1940-2015). With the slogan "Experience IT – Intuitive Technology", EML develops software and new methods in the field of automatic speech processing.
Memberships
Sympalog participates in various organizations and networks:
---
Contact-Center-Network e.V.
The Contact-Center-Network consists of companies which offer solutions or services for the contact center sector. The Contact-Center-Network pools competence enables projects across the disciplines of the partners and aims at being the source of inspiration in the sector. From this point-of-view, the Contact-Center-Network identifies current trends, reflects how this will effect the necessary technologies and services of tomorrow and considers itself a dialog partner. In this context, the Contact-Center-Network is amongst other things the editor of the yearly contact center investment study. more…
Nürnberger Initiative für die Kommunikationswirtschaft – NIK e.V.
NIK informs and connects technology companies, colleges, local authorities, institutions and research institutes in the field of digital economy in the metropolitan area of Nuremberg.
Förderverein Innovatives Unternehmertum Nordbayern e. V.
The Society of Friends for innovative entrepreneurship in Northern Bavaria backs – in combination with the Society of Friends in Southern Bavarin – the BayStartUP, an institution for foundation, financing and growth in Bavaria funded by the Bavarian ministry of economics and the economy.