Sym Dialog 5: A step ahead via free-speech dialog
Free-speech dialog corresponding to your ideas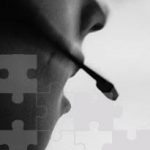 SymDialog 5 is the centerpiece of the SymBase 5 platform. The module is responsible of the flow of free-speech dialogs and links an intelligent and user-friendly dialog control with the knowledge from the backend systems. Thus, the users meet their targets quickly while sparing resources.
Free-speech dialog in man-machine communication
The software module SymDialog 5 is able to approach human behaviour in the computer-assisted processing of free speech: In interaction with a backend system (data base, ERP software, etc.) the dialog manager controls the dialog flow generating the optimum system response dependent on the particular situation. Supported by methods from the artificial intelligence (AI), this dialog design leads to a high user-friendliness respecting the behaviour of the dialog partner. Just as communicating with a human, SymDialog 5 asks for missing information and confirms or rejects it.
User-friendly and efficient
SymDialog 5 optimises the efficiency of the dialog, taking the respective user behaviour into account (mixed-initiative approach):
Users who take the initiative – because they are acquainted with the application for example – are supported by summarising confirmation questions and a high dialog flexibility.
SymDialog 5 asks users who are not familiar with the application pointed questions about the relevant, missing information, thus leading them to the goal quickly.
In order to design clearly-structured dialogs for the user, SymDialog 5 is able to classify different subjects explicitly, thus simplifying the generation of extensive dialog applications.
SymDialog 5 is applicable to any language subject to an appropriate environment.
Flexible integration as IVR, chatbot or module into dialog applications

SymDialog 5 is able to control varying kinds of dialogs:
as IVR application with SymBase 5 or via an interface in any modern speech platform.
as chatbot, in typing interaction with the system.
as dialog-oriented backend module for the control of web-based or mobile applications.
Features SymDialog 5
Intelligent dialog control ("mixed-initiative")
Support of varying AI methods for the understanding component ("intent" recognition)
Out-of-focus responses
Dialog memory
Context-based help, meta utterances
Flexible reporting
Administration via web interface
Extensive development tools for the testing and simulation of dialogs
Tools for the evaluation of completed dialogs
Technical data SymDialog 5
Compatible with standard PC hardware, flexible scalability
Platform-independent (Java-application)
Interfaces to backend systems such as ERP/CRM systems (SAP, etc.), databases, web services; others on request